Easter Table Setting with Mini Cheesecakes
If you are coming over from Love Your Abode, welcome! I am glad to have you here. Easter is a beautiful time of thanksgiving and reflection as well as spending time with family and friends. Having an Easter Table Setting with Mini Cheesecakes is an easy way to really enjoy the day without stress.  I will provide the recipe below as well as affiliate links so you can shop this look.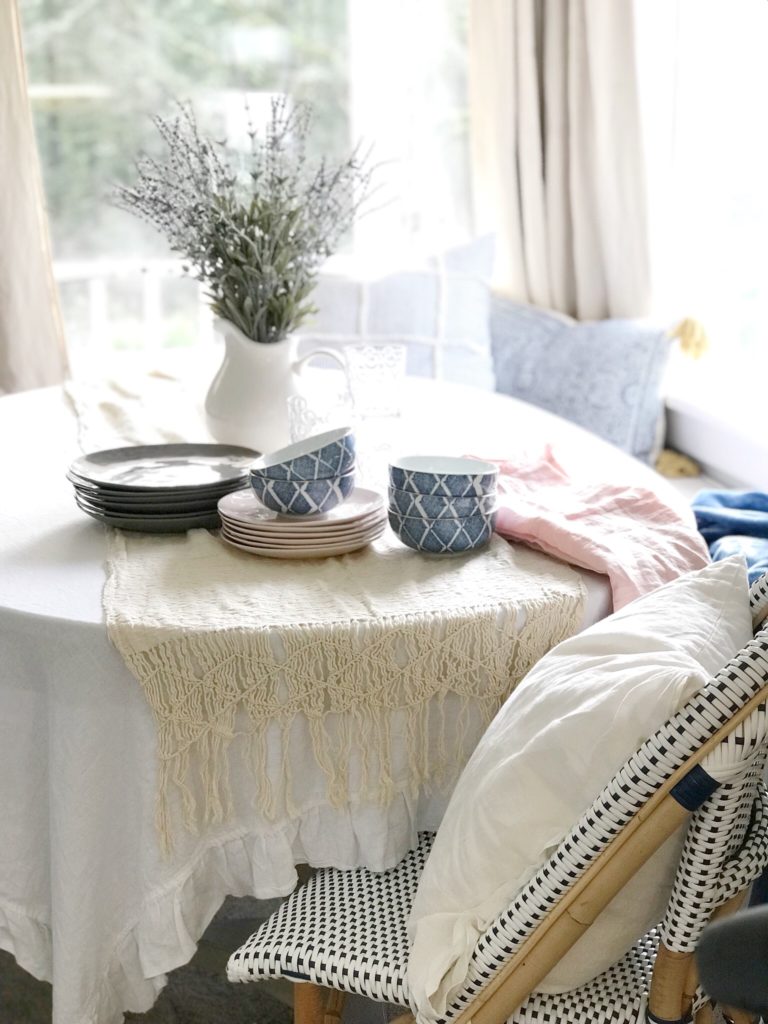 I started with my basic white ruffle linen table cloth. Then added a pop of color with the dinnerware. Linens create a soft, yet put together look for any occasion. Find them here in my shop!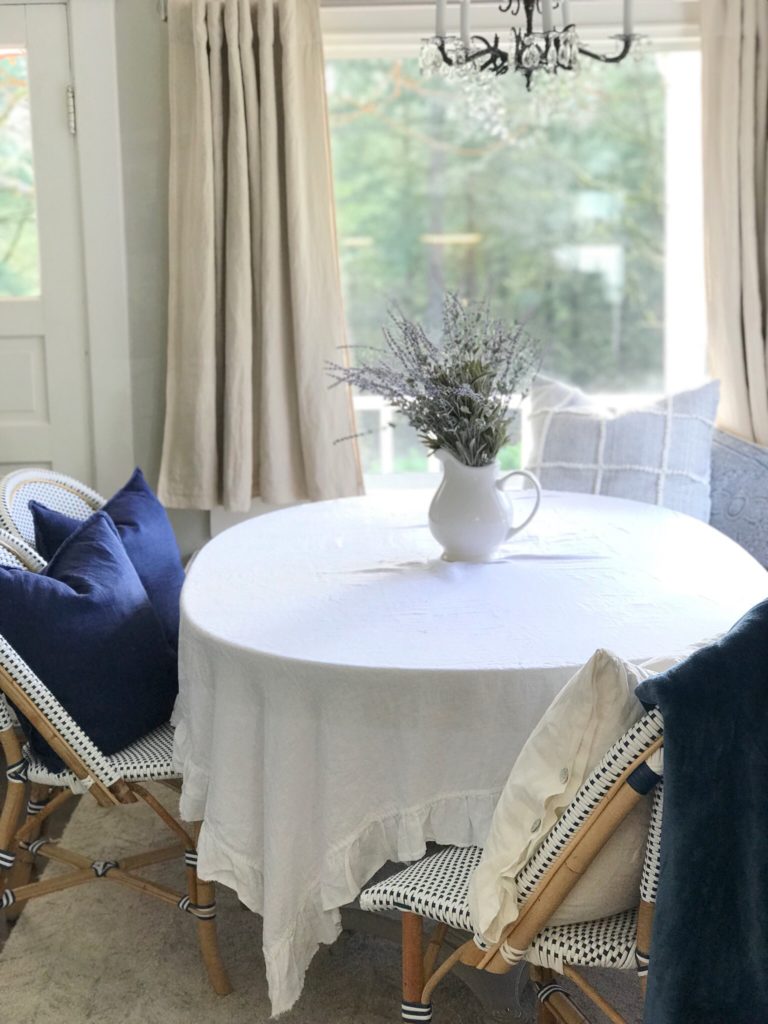 With 7 kids, I like to keep the table setting simple so it doesn't crowd the space when we eat. Buffet style makes for plenty of room. Not having to set the table, now that's what I call easy and yet it is still pretty and a place that everyone wants to gather. To be honest. When I do set the table and have gorgeous centerpieces. At least one of the boys will ask to remove it so he can see across the table with ease. I think they get that from their Dad. I will still do it at times but not for big family occasions.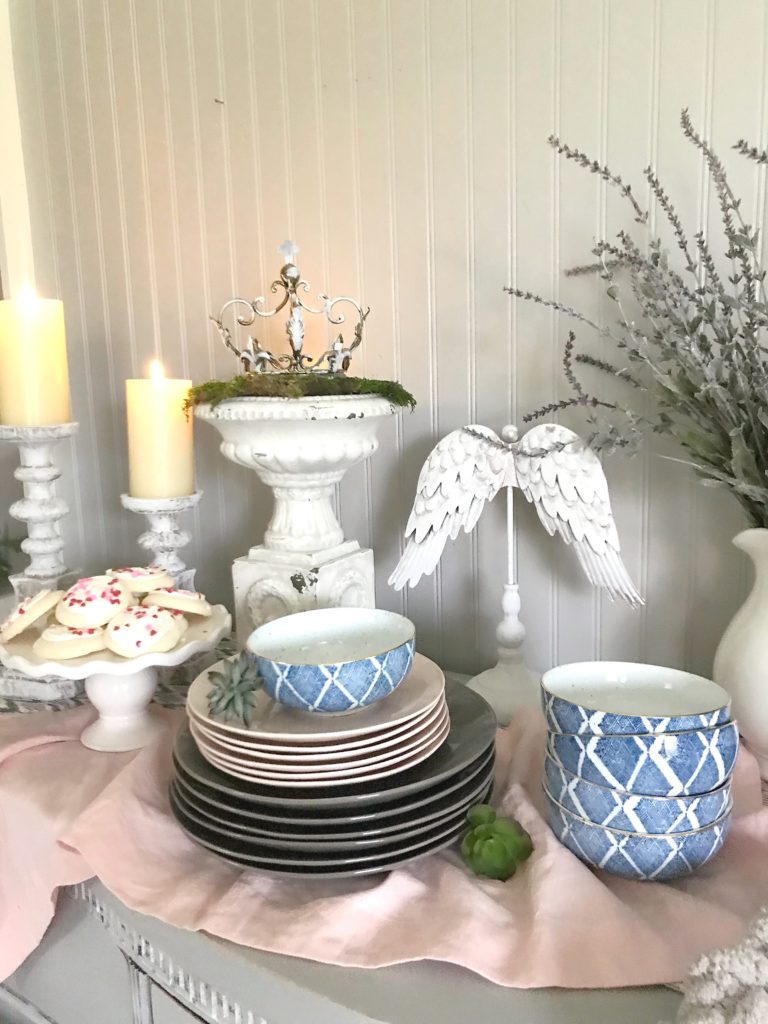 I did decorate the buffet table to give it that Spring shabby chic look.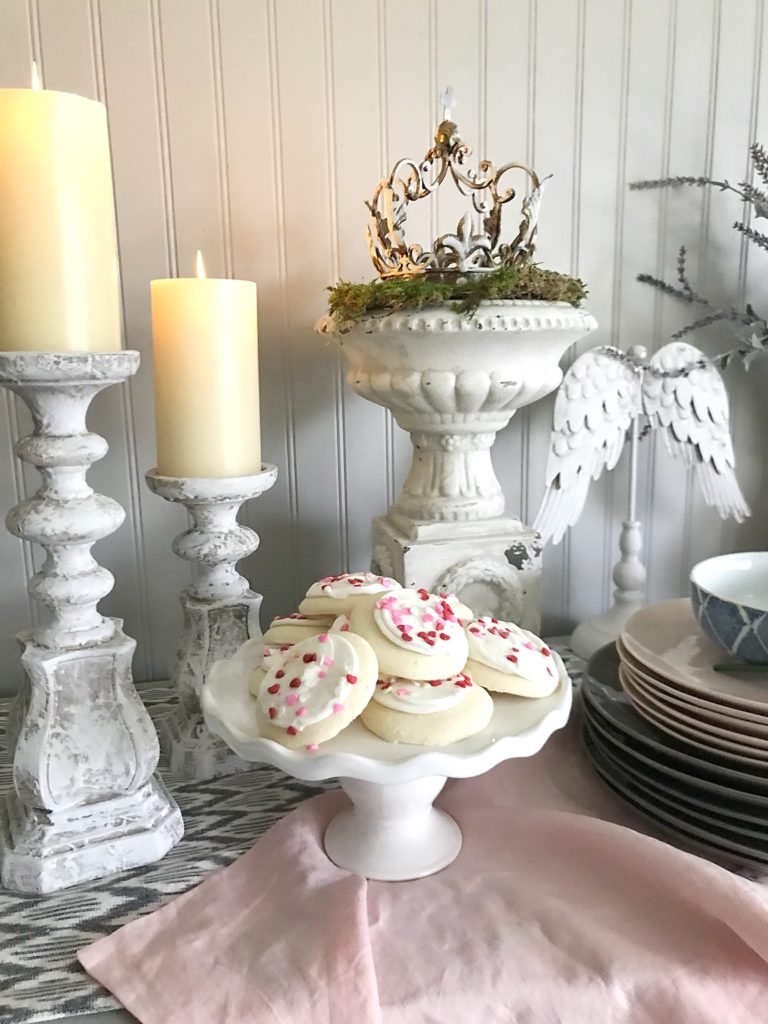 The day also consists of our favorite cookies and farmhouse style so I added it to the buffet table as an option when creating our Easter table setting with Mini Cheesecakes. You can find custom farmhouse decor in my Etsy shop.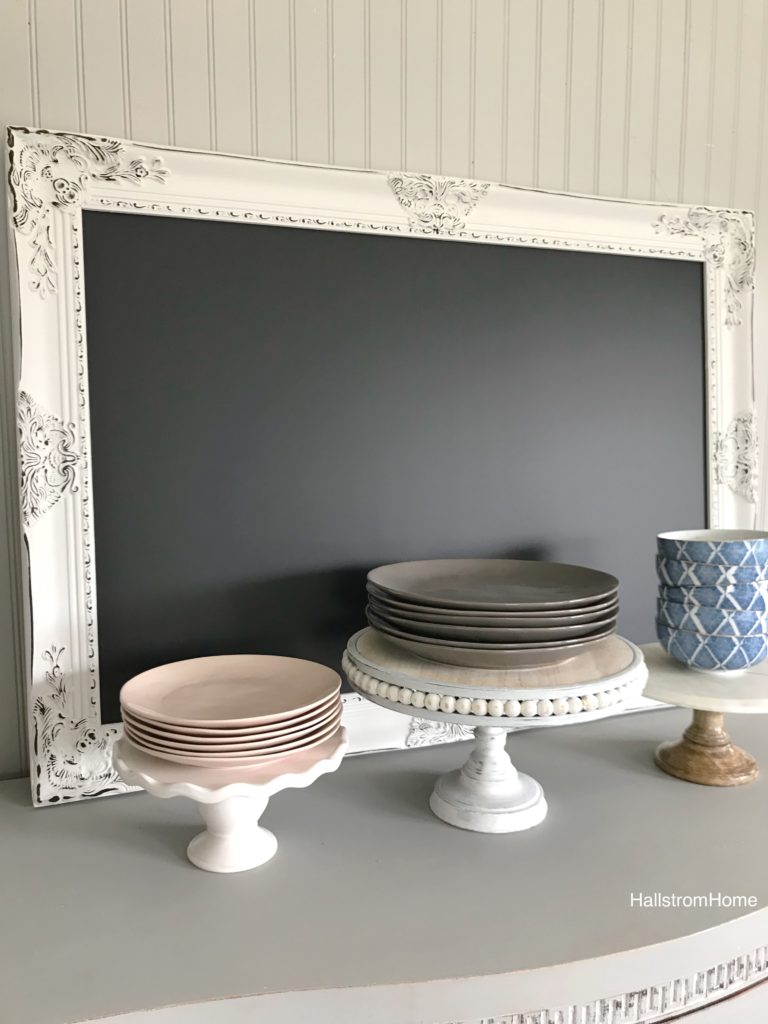 Another great way to decorate is to add a chalkboard. You can write any message you want, or even leave it plain. I have custom memo boards in my shop here. I meant to wright an Easter message for our buffet line but…between time and messy handwriting, I thought i'd wait for another day. Here is a link on how to create chalkboard writing the easy way.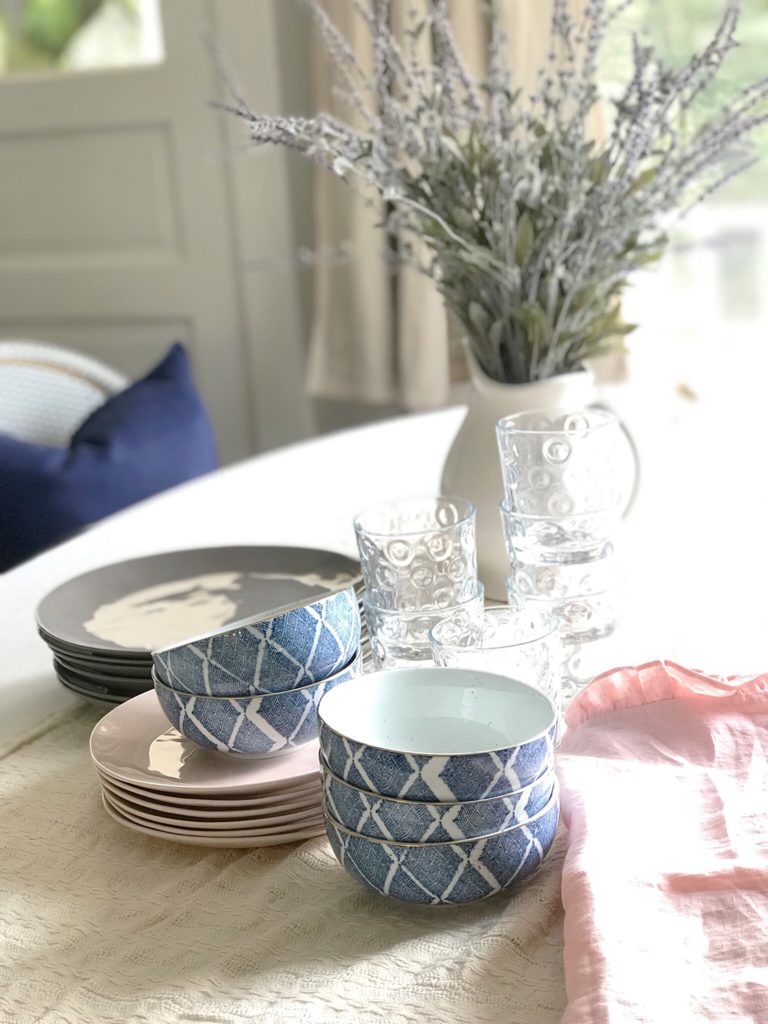 Pastel pink and blue has been my favorite colors this season. Not too much, but some around the house is perfect and hubby doesn't mind pink.  I will link to my sources here.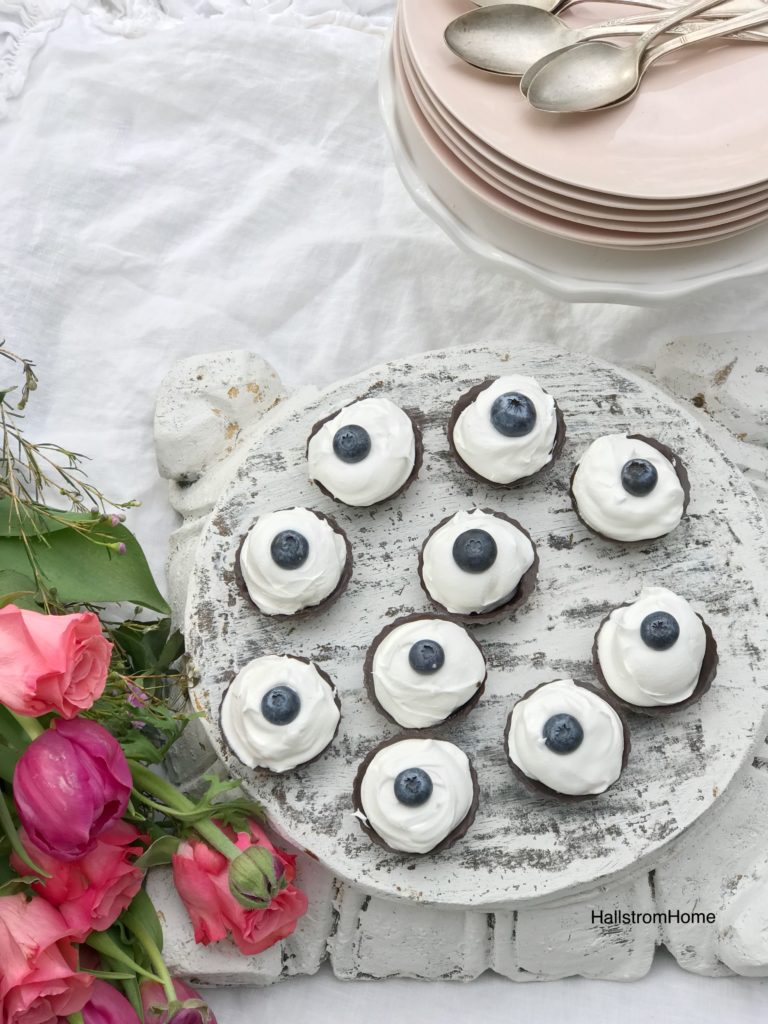 Easter Table Setting with Mini Cheesecakes
Ok now let me tell you about the day that I made and photographed these mini cheesecakes. It was a typical busy day with orders to work on and kids at home sick but I had to get this done. So I got everything made and set up outside for a quick photo. It was a warm sunny day and I ran back in for some table linens when I hear one of the kids screaming " Daisy!! No!!" and sure enough…Daisy ate some of the cheesecakes.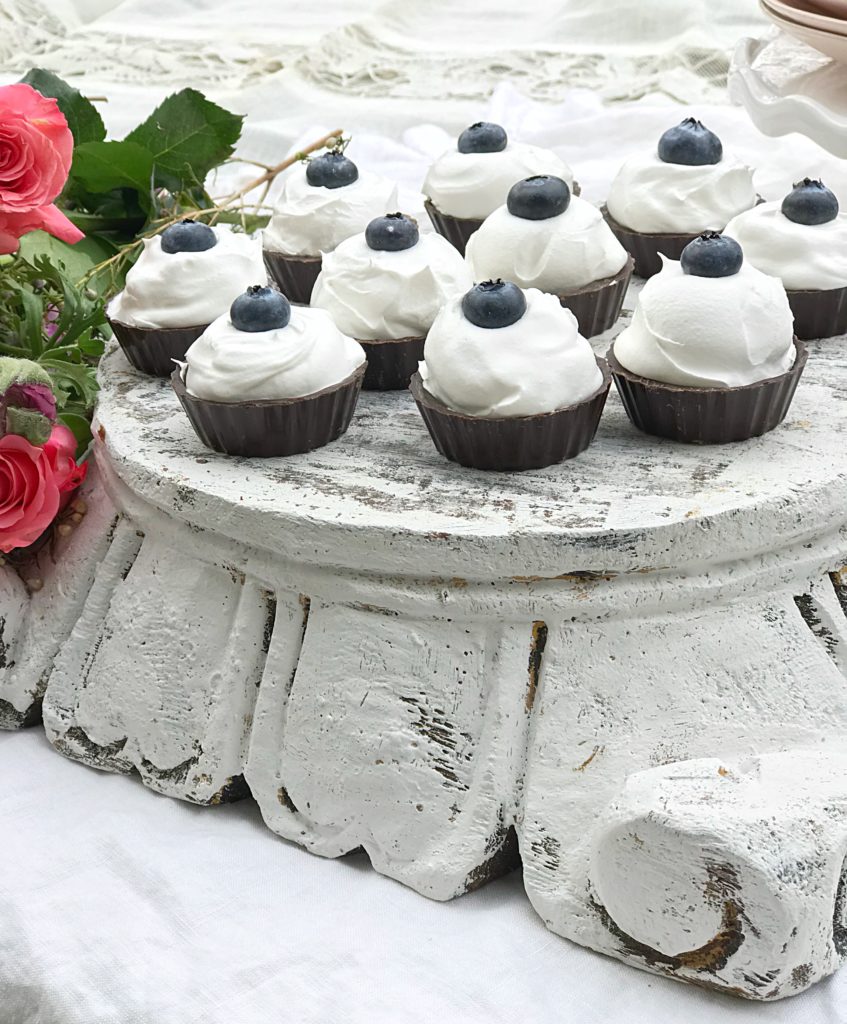 You have to learn to roll with the punches around here so I kept what I could and then the kids ate them all when I was done. That means they will be making these for Easter. Check out my favorite kitchen products I use here.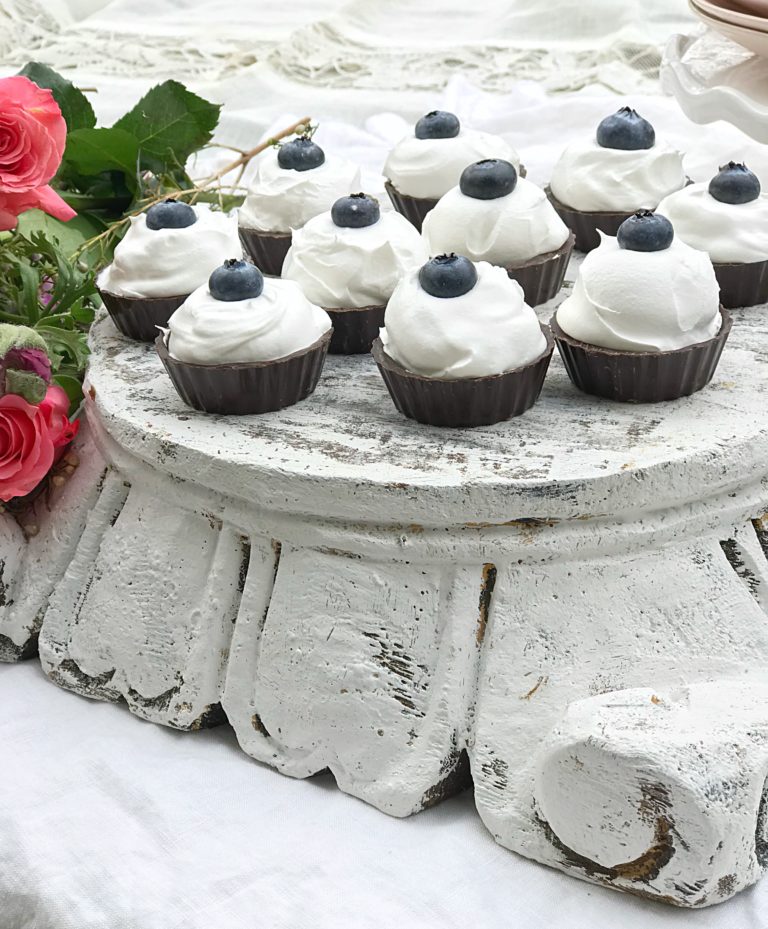 No-Bake Cheesecake
This is a yummy no bake cheesecake. I serve it in mini cake pans. It can also be made and prepared in a large crust.
Ingredients
8

oz

Creme Cheese

Softened

1

cup

Powdered Sugar

1

cup

Heavy Whipping Cream

Whipped

1/2

tsp

Vanilla Paste or Extract

6

mini preparred

Chocolate Cups
Instructions
In a large bowl, beat together powdered sugar and creme cheese until combined.

Slowly beat in whipped creme and vanilla until smooth.

Pour mixture into the pre made chocolate cups.

Refrigerate for 3 hours or until set.

Can top with cherry pie filling or fruit when serving.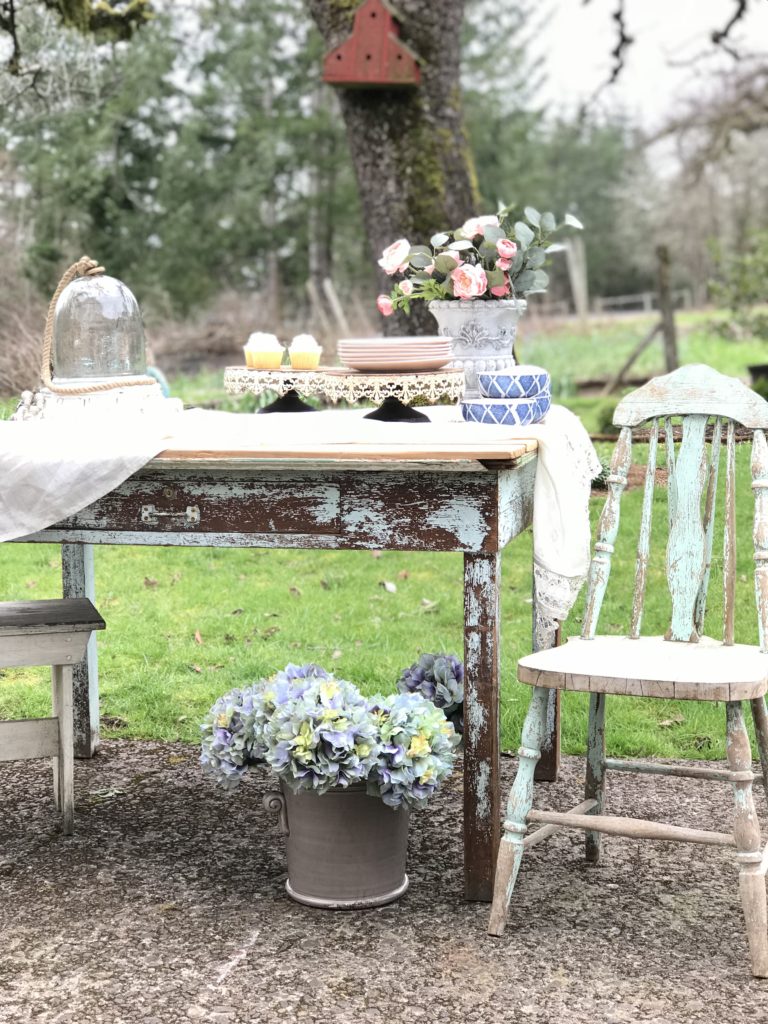 I am trying out a new look to outdoor Easter dining, like my post here. Buffet style, so the boys don't complain about not being able to see!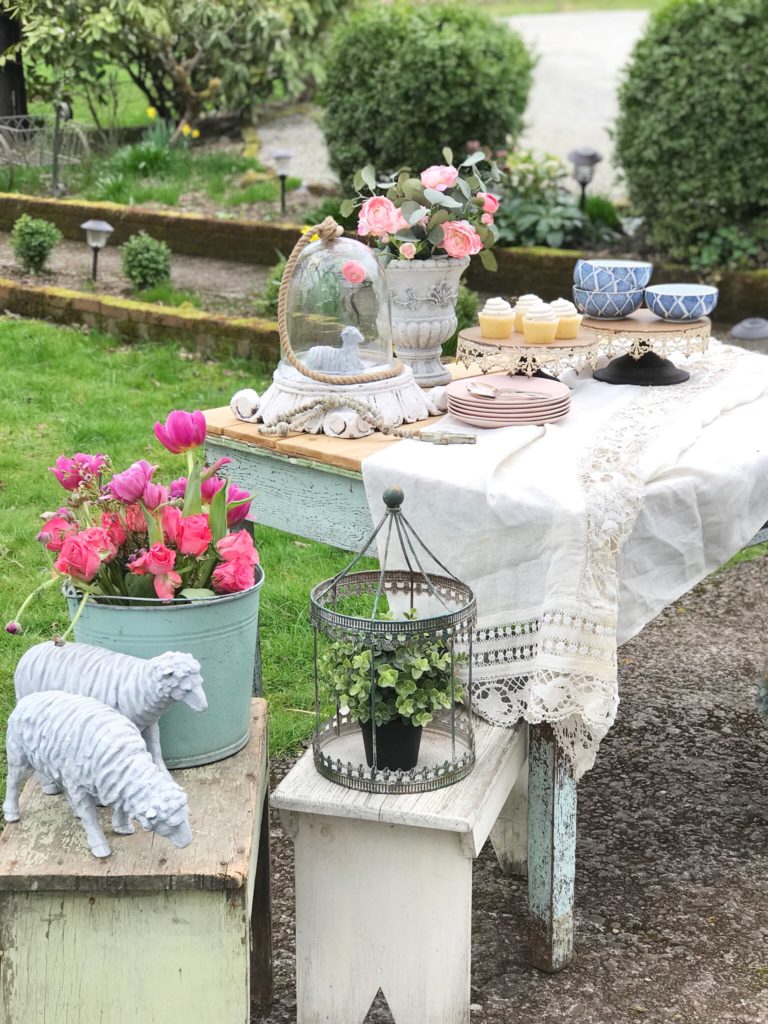 I am so excited to say that we have farmhouse decor in my shop! I am always adding new product and who doesn't love some vintage pieces. Especially chippy pieces like my new table!!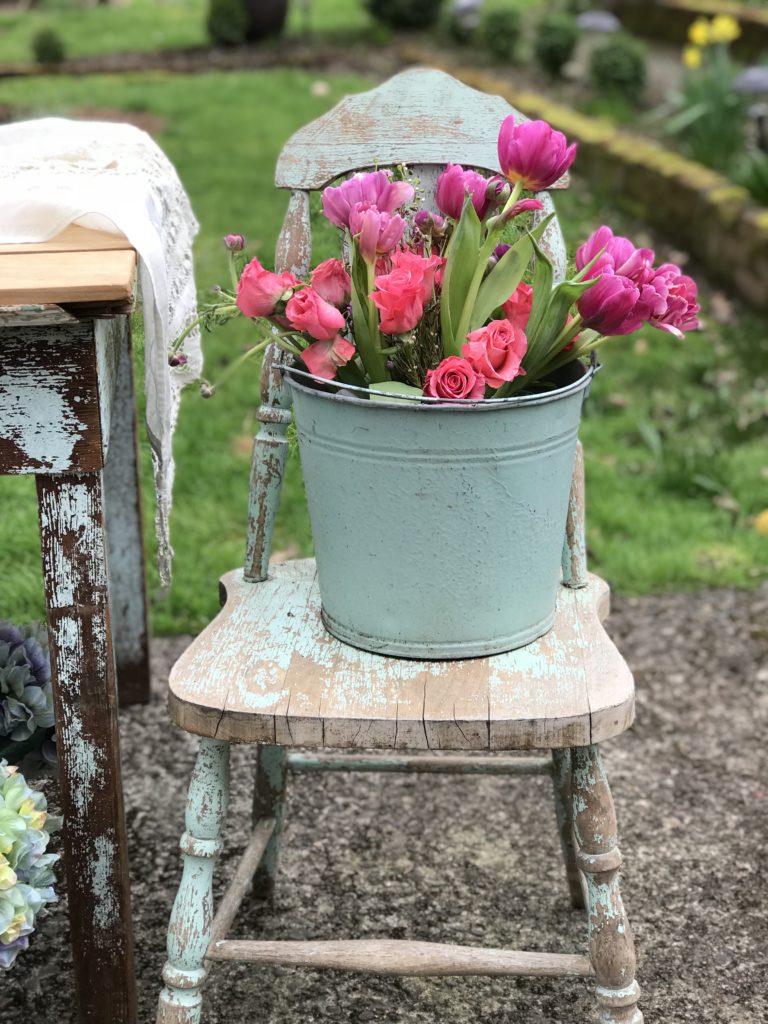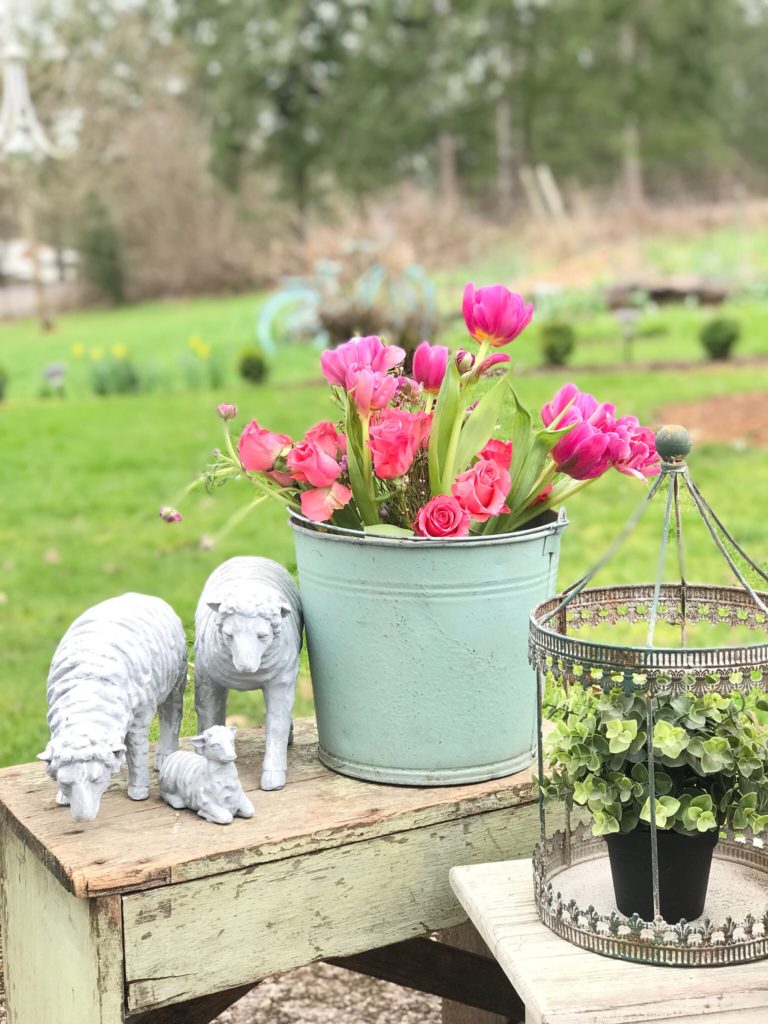 Daisy was by me and I was ready to have her be in the photo shoot. But she wouldn't cooperate without a treat!! What am I going to do with her. Also I have so many new bead products in my shop and I can't wait for you to see all the different styles!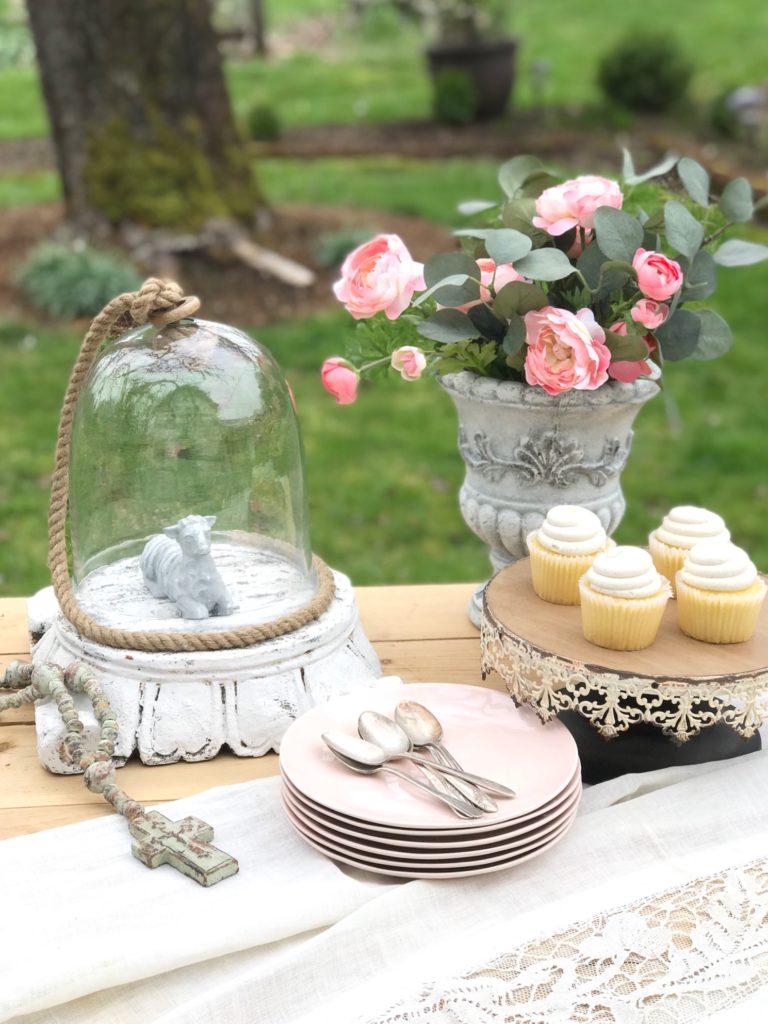 Try out this yummy recipe! Be sure to tell me how it goes. Hope you all have a wonderful Easter!! Next up on this wonderful blog hop is Meme Hill Studio, she is so inspiring!
These are the gals in the blog hop. Check them out for more Easter inspiration !
Joan | 2 Ladies & A Chair
Summer | Summer Adams
Judy | Life Is Better At Home
Gloribell | Know How She Does It
Jackie | Finding Lovely
Ashley | Modern Glam
Yuni | Love Your Abode
Rhonda | Hallstrom Home
Amie | Meme Hill Studio
Kim & Lacey | Styled With Lace
Sheila | Maison de Cinq
Janine | Happy Happy Nester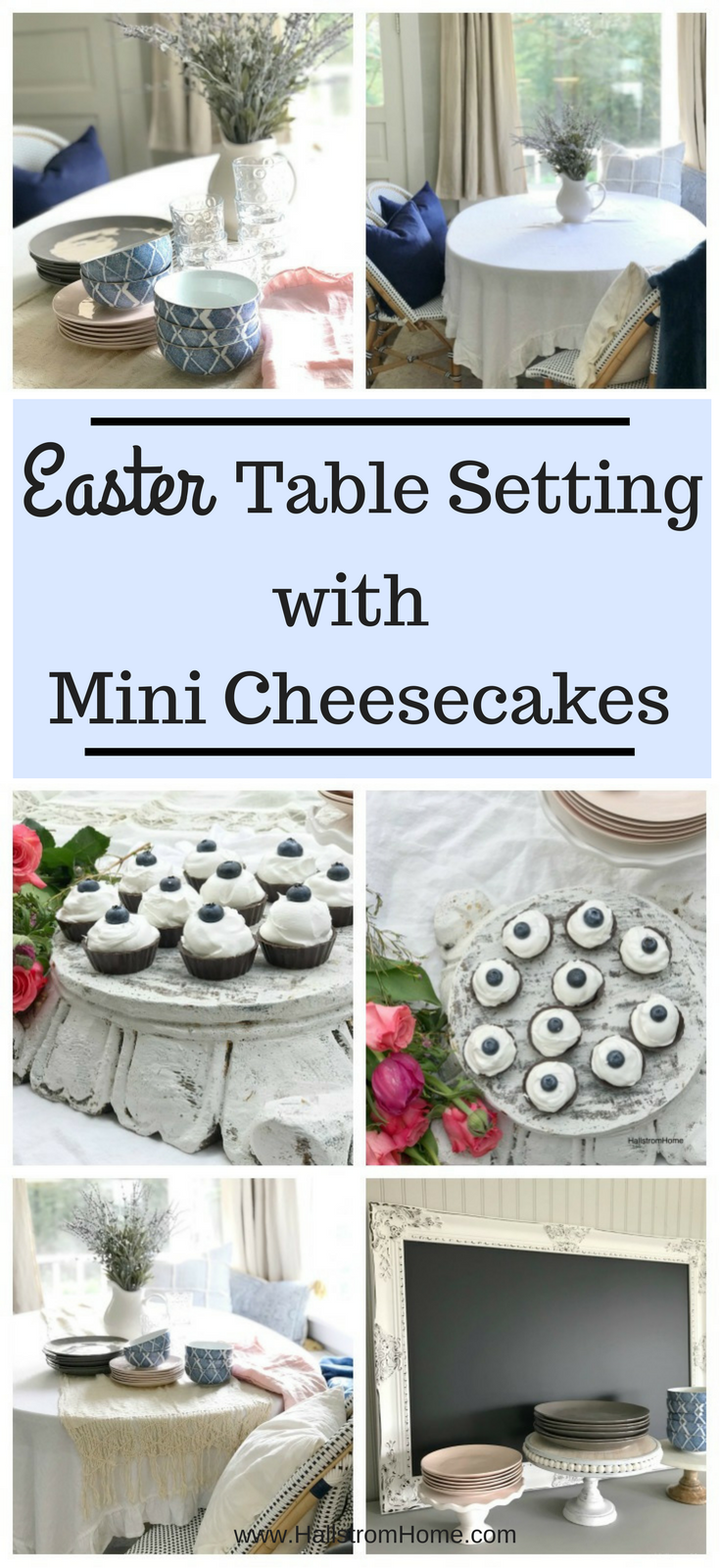 Similar Posts: