Hey guys, welcome! We have big news here today and 5 Easy Design Tips for a Farmhouse Kitchen Remodel and Tour. We are going to RoundTop in mid-March and I am so excited to share with you our trip there. Then having our very own pop up shop here on the farm in April! This is going to be so fun and busy so stay tuned in on our instagram and facebook!
Be sure to sign up for my email to get new recipes, crafts and home ideas in your inbox, plus access to our free printable vault! *This post contains affiliate links*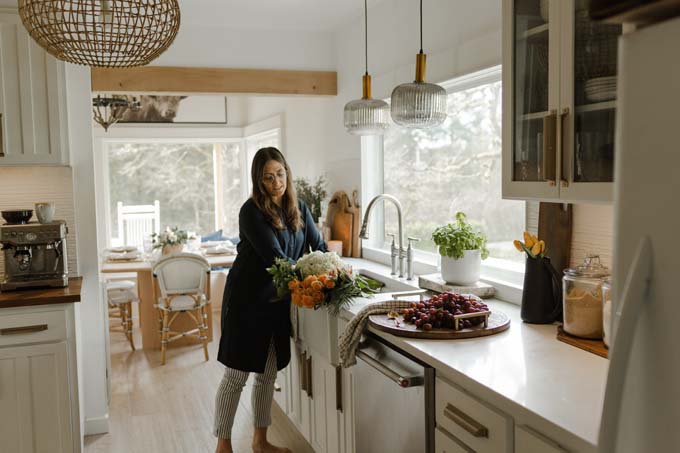 Modern Farmhouse Kitchen Remodel and Tour Tips
First tip that comes to mind when choosing your kitchen style is the sink. When you are thinking farmhouse kitchen, you are probably thinking of an apron sink. I had to consider if I wanted porcelain, ceramic, stainless steal, copper or one of the many others. I ended up choosing a white porcelain which was the best option for my traditional farmhouse style. I have all the details on the brand of the farmhouse kitchen sink and faucet on the blog here.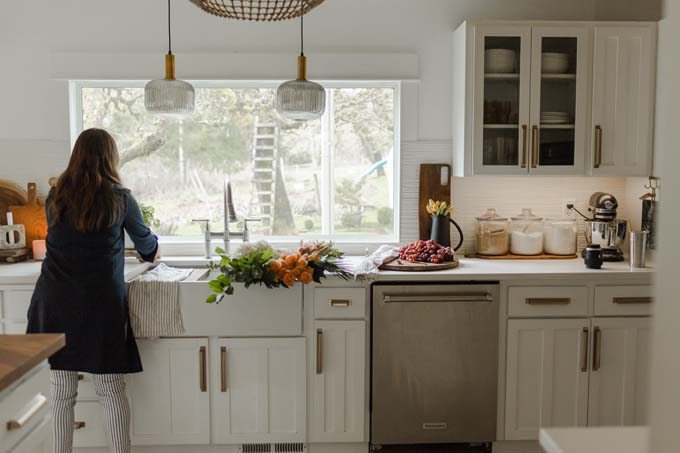 Modern Farmhouse Lighting
The 2nd design tip is the lighting. One of the biggest trends is the basket style lights. I love these in my kitchen now that we have raised our ceilings in our remodel. We also got these amazing under counter lights on a dimmer. These are perfect if you want to change the lighting for a soft evening glow or a bright light. They are also one of those timeless pieces that won't go out of style since they are so handy. I'll link the under counter lights here.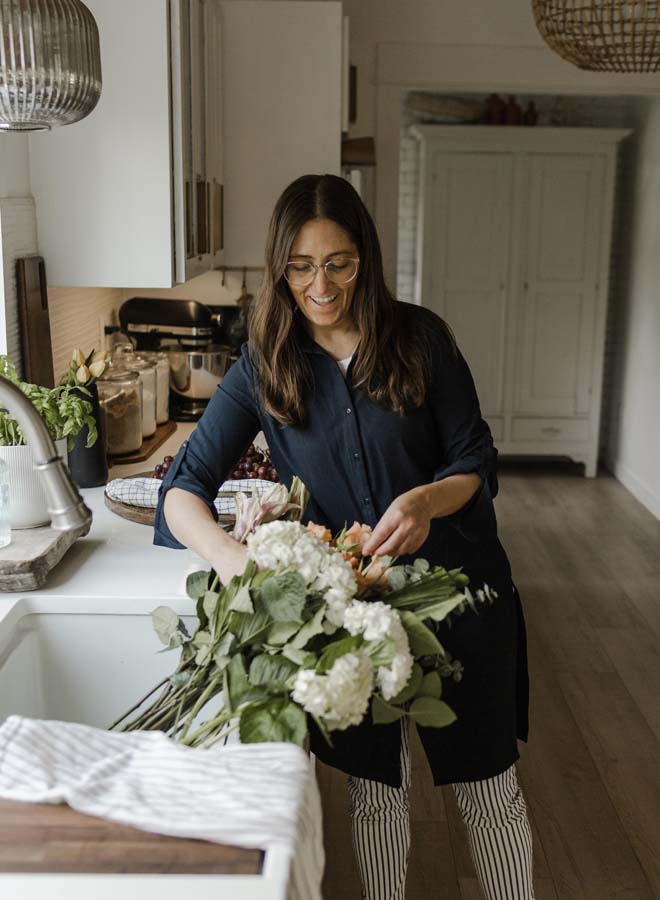 Farmhouse White Cabinet design
My 3rd tip is to pick out your cabinet colors carefully. The cabinets set the entire style of your kitchen. My favorite farmhouse style has been the white on white since the beginning. When we first got this house the cabinets were yellow and stayed that way for 8 years. I can't believe how long I let them be! For these cabinets I did mix a traditional white with a modern natural wood to modernize the space. For Farmhouse Kitchen Decor Ideas click the link for more!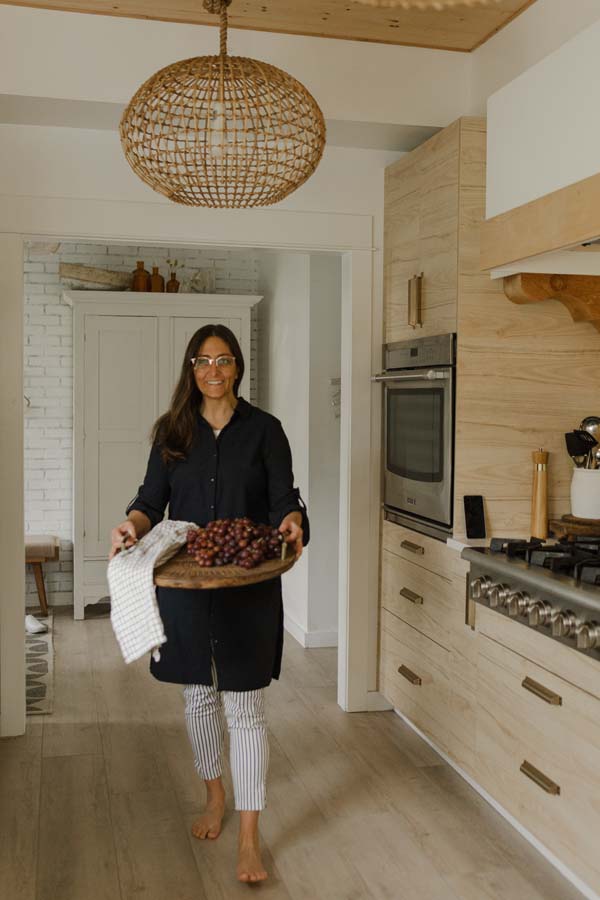 Durable kitchen floors
Flooring is the 4th tip to keep in mind. We choose vinyl click and lock flooring through out the whole house when we remodeled. I'll link my instagram story here to show more. They are waterproof, easy to clean and with 7 children and a bunch of animals we wanted floors that would withstand the wear and tear of farm life.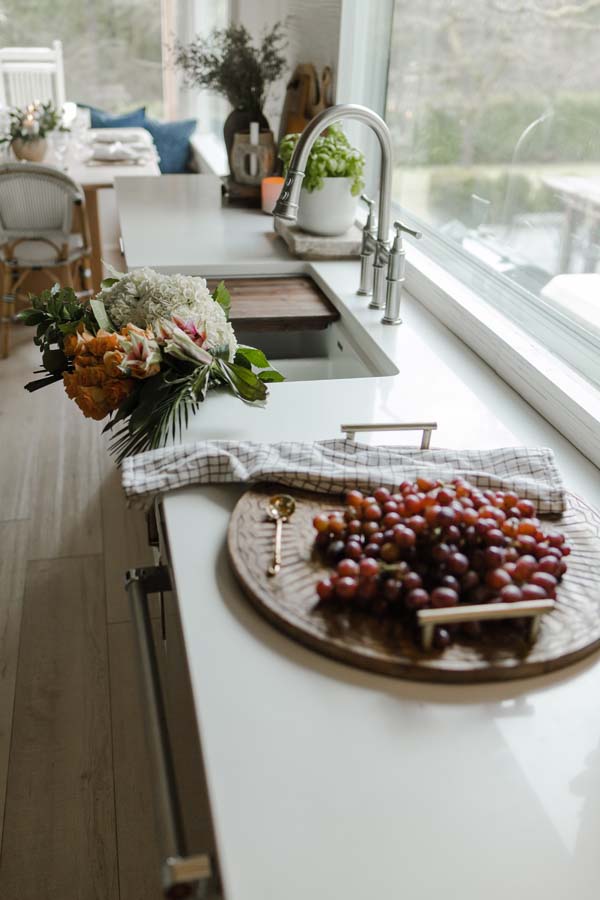 Modern Farmhouse Home decor
The last tip for my 5 remodel design tips is your decor. From kitchen tools to accessories, home decor pieces are the key pieces to bring everything together. I love using my wood handmade pieces to accessorize. My son has an amazing talent at creating these and they are perfect for charcuterie boards when we have friends over. I'll link the Charcuterie Boards here for you to check out. Ceramic and stone pieces are a popular choice as well.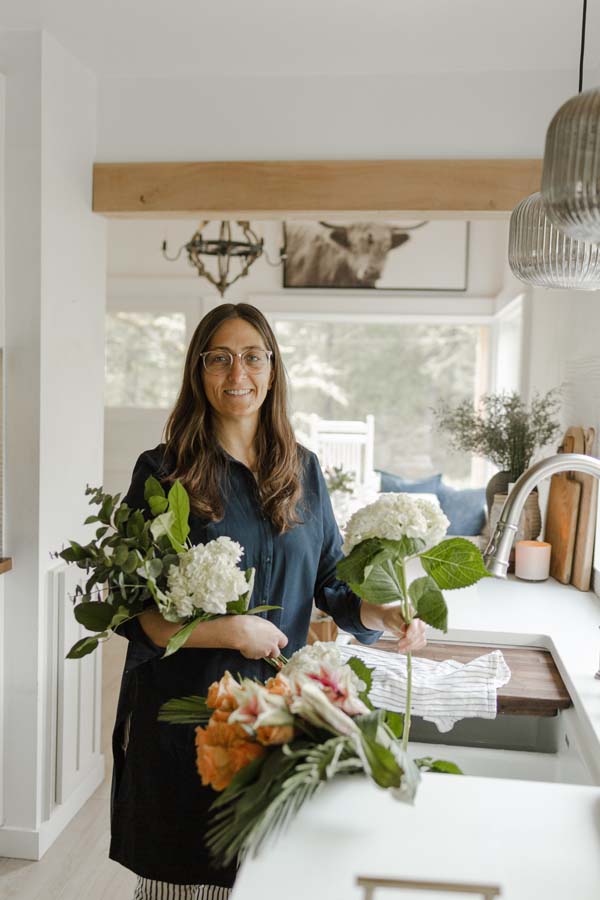 How to create a beautiful farmhouse kitchen
Once you choose your style and color scheme go ahead and play around with your options. This is the funnest part for me to see the kitchen come together and be able to share this with you. If you want more home inspiration we have more home tours here on the blog like our Kitchen Drawer Organization. Check out our entire Modern Farmhouse Home Tour here for more.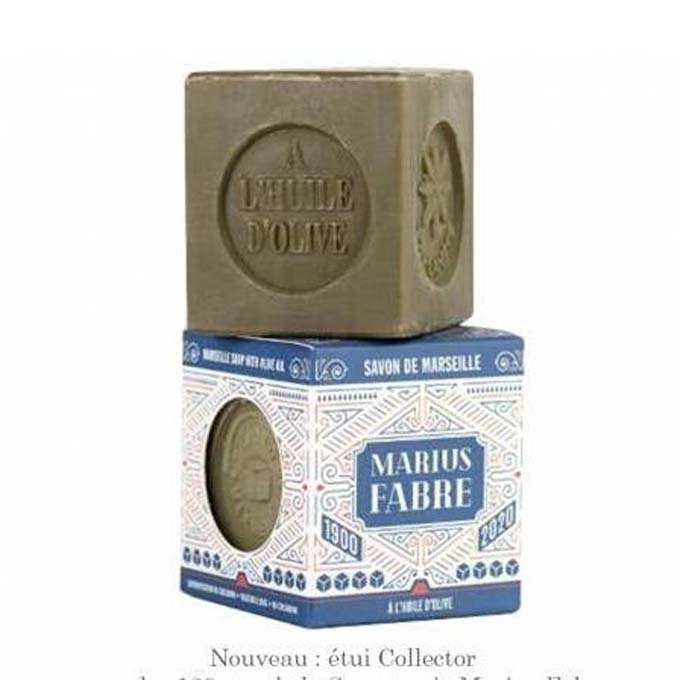 Farmhouse Home Decor
We are going to Round Top Texas soon and will have all sorts of antique farmhouse finds. Be sure to check out this blog post for more information on our pop up shop and trip! https://www.hallstromhome.com/round-top-antiquing-and-pop-up-shop/ Click here to see our Dining Room Remodel for more of our home.